PANEL DISCUSSION: space
Modern day
space race.
Expert Panel Discussion - Watch The Video
Been described as the modern day goldrush and bigger than BItcoin, the space economy today is vastly different to what it was half a decade ago.
This session will explore the concept of New Space vs Old Space in a mind expanding session on how Space applications could be a part of your future.
Ask The Experts A Question / Give Us Feedback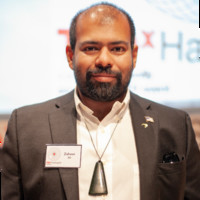 Zaheer Ali
Science and Mission Operations Laboratory Supervisor for NASA's Stratospheric Observatory for Infrared Astronomy (SOFIA)
Responsible for multiple deployments of SOFIA around the world. Co-founder of the National Center for Nuclear Security and AWG Solutions and the founder of Coast Agile.
Sarah Kessans
Research Fellow
University of Canterbury.
Sarah is a researcher, storyteller, adventurer and a self proclaimed idealist. Her research involves developing synthetic biology solutions to combat climate change, facilitate space colonisation, and advance innovations in medicine and agriculture. She is also passionate about educating and inspiring future leaders to courageously tackle scientific and societal challenges with purpose, integrity, and empathy.
Miranda Satterthwaite
STEM Education Leader
Miranda has been a STEM Educational Leader in Canterbury at both Ara Institute of Canterbury and University of Canterbury. She has led a range of STEM Courses linked to Aerospace including Mission to Mars, Ecobots Mars, Aerodynamix, Mission to Antarctica, Rocketry and most recently Magma Drillers. Miranda has led students from Canterbury to Space Camp in the USA including to NASA's Marshall Flight Centre and NASA Kennedy Space centre. She has conducted business at NASA Armstrong Centre and NASA Ames and is a founding director for the New Zealand Centre for Earth and Space Technology. Miranda is currently competing her Masters in Educational Leadership at University of Canterbury.